OkCDA has only one audition process for both the Mixed and Treble Choruses.
Every interested student auditions for the Mixed Chorus.
The committee will place singers after the final round.
OkCDA JH Treble Past Repertoire – (Updated Oct 2022) 
Treble Chorus Repertoire 2024
Gaudete!
arr. Michael Engelhardt
Walton Music WLG136 | SSA
Ave Maria
Giulio Caccini | arr. Patrick Liebergen
Alfred Music 43183 | SSA
Child with the Starry Crayon
Eleanor Daley
Alliance Music AMP0563 | SSA
Muusika
Pärt Uusberg
Walton Music WW1709 | SSAA
Does the World Say?
Kyle Pederson
Walton Music WW1936 | SSA
I'm On My Way
arr. Anthony Trecek-King
Walton Music WW1667 | SSA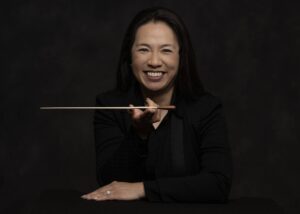 Award-winning choral conductor and music educator Dr. Julie Yu-Oppenheim is returning to Oklahoma to accept the joint leadership position of director of choral activities at the Wanda L. Bass School of Music at Oklahoma City University and artistic director of Canterbury Voices, Oklahoma's premiere symphony chorus.
Yu-Oppenheim succeeds Dr. Randi Von Ellefson, who is retiring after 19 seasons as leader of the unique partnership. This innovative collaboration between Canterbury and OCU is committed to the shared vision to create a national center for choral excellence in Oklahoma City, headquarters for the American Choral Directors' Association (ACDA).
Since 2007, Yu-Oppenheim has led Kansas State University's undergraduate choral ensembles and graduate choral program as co-director of Choral Studies. In her new position, she will conduct and guide the creative direction of Canterbury Voices' award-winning 150-voice ensemble. At OCU, she will shape the artistic vision of the University's four major choirs, conduct the Chamber Choir and Ad Astra women's chorus, and teach courses in conducting and in the graduate choral curriculum.
She holds the Doctor of Musical Arts degree in Choral Conducting with specialized studies in Early Music from the University of North Texas, a Masters degree in Choral Conducting from Oklahoma State University, and a Bachelor of Music Education degree from the University of Central Oklahoma. Her choirs have performed in Carnegie Hall, at the National Cathedral in Washington, D.C., as well as in Austria, Czech Republic, and France. She was an ACDA International Conducting Exchange Fellow to Kenya in 2019 and has led All-State choruses from Florida to Utah to Maine.
Yu-Oppenheim conducted the Oklahoma Arts Institute (OAI) chorus at Quartz Mountain in 2016 and the At Home Chorus in 2020. She has presented and conducted at state and regional conferences of ACDA and the National Association for Music Education. She was featured conductor at Ireland's 2019 International Dublin Choral Festival and clinician and keynote speaker at the European Music Educators Association Conference in Naples, Italy. She is past president of ACDA's Southwestern Region, and served as a member of the Kansas State University Faculty Senate.