OkCDA has only one audition process for both the Junior High Mixed and Treble Choruses.
Every interested student auditions for the Mixed Chorus.
The committee will place singers after the final round.
OkCDA JH Mixed Past Repertoire – Updated Oct 2022
Rehearsal Tracks
Student auditions will use the official Rehearsal Tracks which can be purchased through OkCDA.
Downloads will be released on July 18 @7pm
Non Audition Selections
Bawo Thixo Somandla
African traditional | arr. Sidumo Nyamezele |
Transcribed by Scott Tucker
SATB
earthsongs S-311
Gate Gate
Brian Tate
SATB
earthsongs S-100
Prayer of the Children
Kurt Bestor | arr. Andrea S. Klouse
SATB
Alfred Music CH96165
We are the Music Makers
Reginal Wright
SATB
Oxford University Press
Corrections & Notes
Corrections & Notes from Clinician are linked here. This is a live document and should always be up-to-date.
Updated July 2023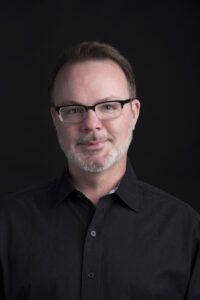 Joey M. Martin is a musician regarded for his diverse musical interests, engaging artistry, and passionate enthusiasm for the choral art. He holds the rank of professor of music at Texas State University where he continues in his 23rd year as Director of Choral Activities with additional duties as the School of Music Associate Director for External Development.  Dr. Martin has been recognized as a Favorite Professor at Texas State and has received the Presidential Distinction Award for both Teaching and Service. During his time at Texas State he has directed four of the six university vocal ensembles. Under his direction, Texas State Chorale tours internationally with performances throughout much of Europe, South Africa and China and performances for numerous conferences including TMEA, SWACDA, ACDA, and the International Kodály Festival.
In addition to his work at Texas State, Dr. Martin has served as the artistic director for the Alamo City Men's Chorale and with Craig Hella Johnson as part of the creative team for the Victoria Bach Festival. His scholarly/creative activities span twenty-seven of the states and fifteen countries on six continents including much of Europe, South Africa, Australia, New Zealand, China, and Brazil. He continues in his eleventh year as the artistic director and conductor for Honor Choir USA in Honolulu, Hawai'i, where he revels in sharing the 'aloha spirit' with exceptional young musicians from the mainland through concerts and enrichment activities that foster awareness and understanding of the Polynesian cultures. 
Service is a priority for Dr. Martin.  He has over thirty years of service in music ministry for various churches including the Elk City Presbyterian Church (OK), Weatherford United Methodist Church (OK), historic First Protestant Church in New Braunfels, Texas, and currently with New Braunfels Presbyterian Church.  He served for seven years as the National ACDA Repertoire and Resources Chair for College and University Choirs and continues with service to the National Collegiate Choral Organization. During the summer 2022 conference of the Texas Music Educators Association, he was awarded the Choral Advocacy Award. 
As a pianist, he enjoys collaborating with vocal and instrumental artists in recitals serving as coach/accompanist for diverse artists including vocalists Jennie Olson, Maria Jette, Timothy Jones, Ron Ulen, Daveda Karanas, Soon Cho, Richard Novak, and Cheryl Parrish as well as trio work with violist Ames Asbel and cellist Karla Hamelin.
Dr. Martin received his DMA in choral conducting from the University of Texas-Austin where he was recognized as the Outstanding Graduate while studying conducting with Craig Hella Johnson. He is a recent graduate of the Harvard School of Education Management Development Program, is a member of the Fulbright specialist roster, and is a mentor for the Texas Academic Leadership Academy.  In his spare time, he dreams of culinary school.